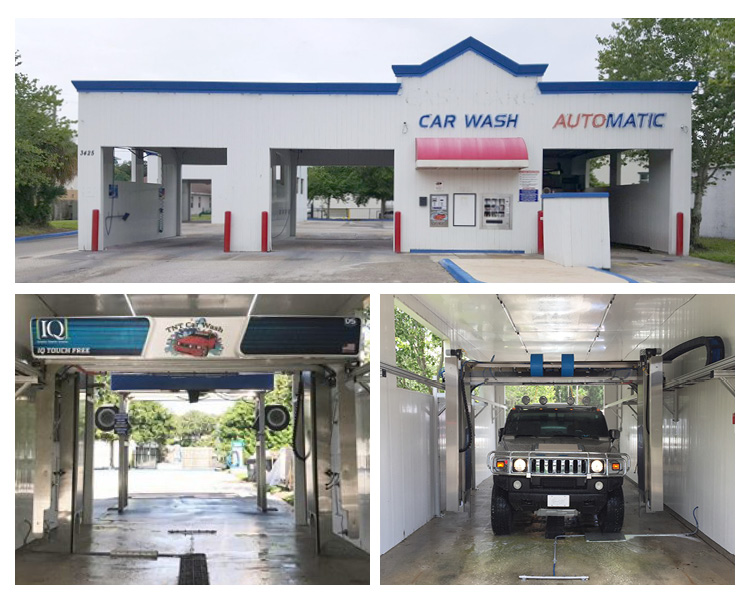 TNT Touchless – Lakeland, FL
When Tonna and Troy Roush, owners of TNT Touchless, saw an opportunity to acquire two car wash facilities in their hometown of Lakeland, Florida, this year, they knew both washes would need a makeover.
Having managed both washes for years, they knew that the existing Ryko automatic brush washes were showing their age and becoming liabilities.
So they ordered a new IQ 2.0 Touch Free In-Bay Automatic from D&S and quickly proceeded with a complete remodel of their South location. Renovation and installation were completed in only a matter of days as opposed to weeks, and the new IQ 2.0 Touch Free premiered on July 19. A Grand Opening followed on August 5 to announce the new ownership and introduce the IQ 2.0.
Troy and Tonna report the fresh appearance and improved wash quality provided by their new IQ has generated an expected increase in sales revenue, but what they didn't expect was that after replacing a rollover friction machine with a Touch Free IQ 2.0, both their electric and water bills would be lower!
When asked about the results, Troy stated, "We were so impressed with the response from the new IQ 2.0 Touch Free that we ordered a second unit for our new North wash without hesitation.
The Roushes agree that the IQ 2.0 is the Best Way to Wash. See the IQ 2.0 Touch Free in action!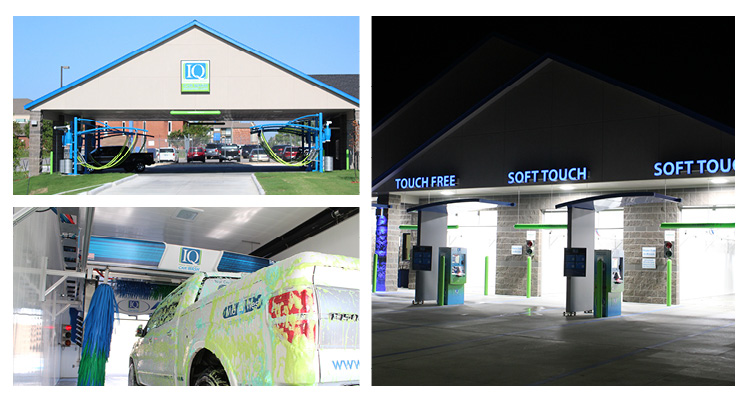 IQ Car Wash – Owasso, OK
Scott and June Shepherd recently opened their third IQ branded car wash in Owasso, Oklahoma. This stunning new 77,000 sq ft facility features a trio of IQ 2.0 In Bay Automatic Car Wash Systems – two Soft Touch and one Touch Free – flanked by six self serve bays equipped with the IQ Self Wash System.
The Owasso location officially opened on July 10, 2017 and followed up with its Grand Opening on Aug 11, 2017. Authorized D&S Distributor Brian Merz and his expert team at Mid-West Equipment Sales worked with the Shepherds on this ground-up project and handled installation of all D&S equipment.
Scott and June Shepherd were early adopters of the IQ and its revolutionary 3D scanning technology at their first car wash in Ponca City, Oklahoma, back in 2014 – giving them a competitive edge in today's car wash marketplace. Scott and the Mid-West team collaborated on that build as well as on the Shepherd's second location in Blackwell, Oklahoma. Scott's first IQ machine has now logged a whopping 116,000 washes!
Scott and June Shepherd now own and operate a total of six IQ In-Bay Automatic Car Wash Systems, and they know that IQ Car Wash Systems truly are "The Smarter Choice" in car wash equipment.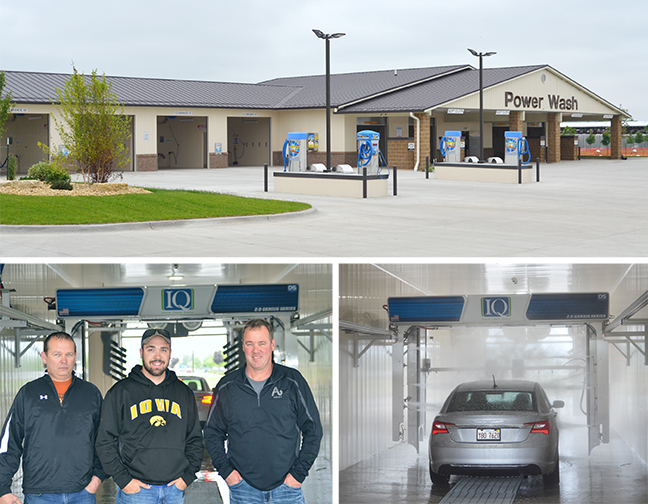 Left to right:   Darren Mulligan, Ray Jay Wolff, Dan Wolff
Power Wash – Moline, IL
Dan Wolff's newest Power Wash car wash makes a powerful statement about his commitment to his customers, convenience, and wash quality.
(Watch Dan tell his story!)
Dan's 7,429 sq. ft. wash boasts a powerful foursome of IQ 2.0 In Bay Automatics – two Soft Touch and two Touch Free – flanked by four climate-controlled self-serve bays equipped with D&S Self Wash systems and topped off with four D&S vacuum stations.
Located at 4307 61st Street in Moline, Illinois, this new wash is Dan's fourth and biggest and best to date.
Dan has worked with D&S Authorized Distributor Darren Mulligan and Ultra Spray Professional Carwash Equipment in Reinbeck, Iowa, for nearly 30 years. They agree that D&S Car Wash Equipment is The Smart Choice for today's savvy car wash owner/operator.
With the opening of this location Dan now operates 12 D&S In Bay Automatics and 16 D&S equipped self serve bays.
Dan, Darren, and Dan's son, Ray Jay, keep the Quad Cities quartet of Power Wash locations running smoothly. "The IQ 2.0's remote reporting feature helps us stay ahead of service issues," says Dan, "and the IQ's economical use of chemistry, water, and power makes us more profitable, wash after wash, and day after day."
When asked what the future holds for his car wash empire, Dan replies, "We'll build more washes, and they'll be D&S equipped."

The Beacon Car Wash – Pacific, MO
On June 15, 2016, Bill and Gretchen Hoaglin purchased The Beacon Car Wash located on Old Route 66 in Pacific, MO –  a car wash with sputtering performance but unlimited potential. As a result, the Hoaglins decided to replace all of the existing wash equipment with IQ 2.0 In Bay Soft Touch and Touch Free 35 Automatics as well as a 5-bay IQ Self Wash – the Smarter. Cleaner. Greener. choice!
A complete rebuild of the facility occurred in an amazingly quick 4-month period, and The Beacon's Grand Opening took place October 23-25, 2016, a shining example of success.
Not only are the Hoaglins savvy car wash owners, they're savvy marketers as well. The D&S Custom Graphics shop produced awesome logo-themed graphics, making The Beacon "the destination" for car washing in Franklin and St. Louis counties.
Since The Beacon's grand opening, the Hoaglins state that monthly revenue is up an average of 300% from the previous owners. They attribute the results they see to the IQ's low chemical consumption and electric use, as well as its reliability and wash quality. That's a Win-Win-Win for the Hoaglins and proof positive that the IQ 2.0 Car Wash System is "The Best Way to Wash."
Saving time and resources while cleaning vehicles better is proof that the IQ Car Wash System is the Smarter. Cleaner. Greener. choice. Contact Us today to learn how D&S Car Wash Equipment Co. is "The Smarter Choice" for your car wash business!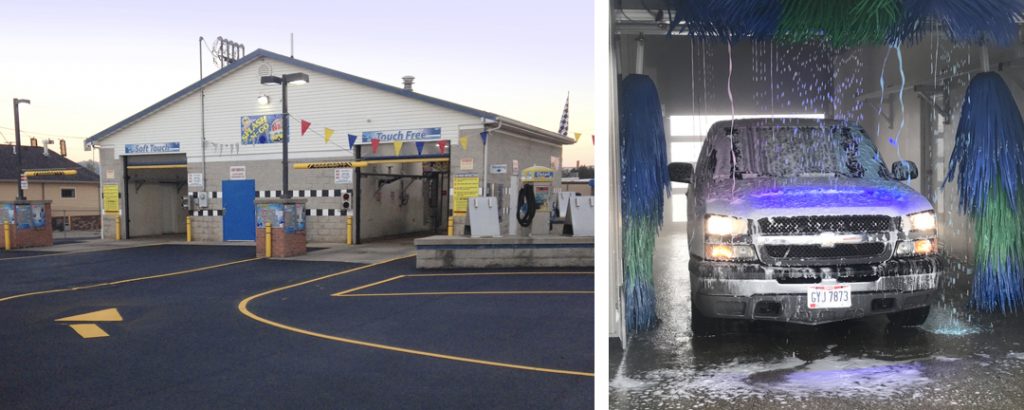 Splash-N-Go Car Wash – Portsmouth, OH
Since Ken Boldman, owner of Splash-N-Go Car Wash, replaced his aging twin D&S 5000 In Bay Automatics with a new IQ 2.0 Soft Touch and a new IQ 2.0 Touch Free In Bay Automatic at his Portsmouth, OH, location, the results have been amazing!
When he saw the IQ 2.0 Soft Touch in action at the 2016 ICA show, Ken was impressed.
The IQ virtual treadle, voice command audio, remote management, and engineered efficiency made his decision to upgrade to the IQ an easy one. Tim Board, of Board's Car Wash Sales in Springfield, OH, handled the sale and installation of the equipment in early September 2016. That was when the efficiency and profitability of the IQ 2.0 became evident to Ken.
With the IQ 2.0 Touch Free, Ken is experiencing a 25% increase in the number of vehicles washed per gallon of soap, and with the IQ 2.0 Soft Touch, Ken is seeing a whopping 550% increase in number of vehicles washed per gallon of soap, compared to the older system. Couple these chemical savings with reduced power and water usage from the IQ 2.0 and the savings are extraordinary.
By adding the optional LED Foaming Wax Rain Curtain to both machines, Ken has been able to raise the price of his top wash by 20%. Going green really pays off with the IQ 2.0!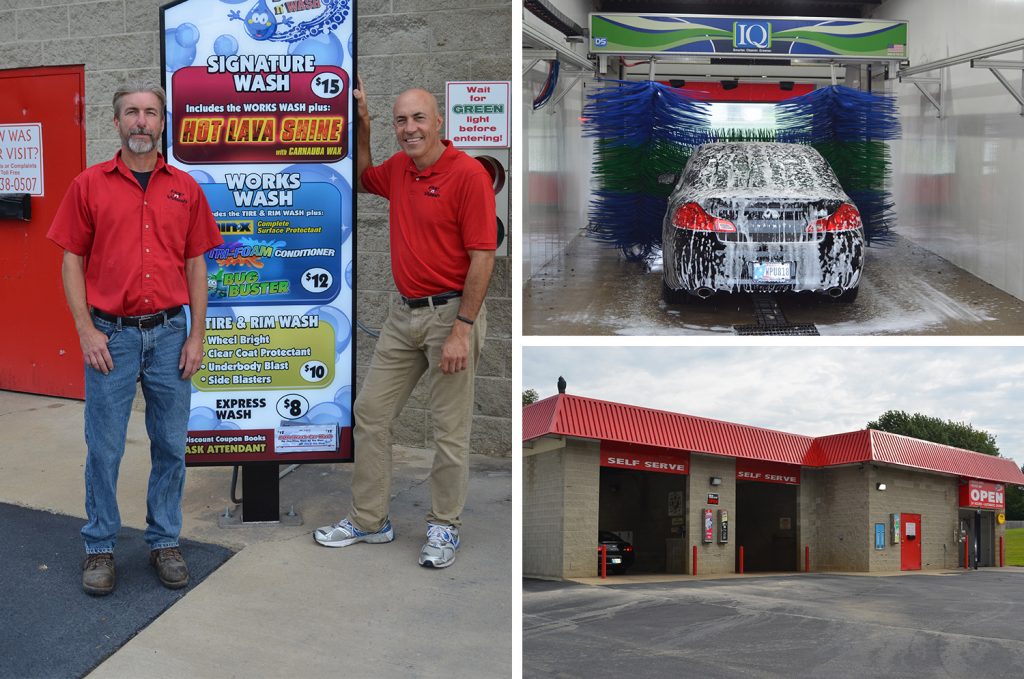 Pop 'N Wash – Rossville, IN
What a combination for veteran car wash owners Dave Mote and Eric Kelley, who recently installed their second IQ Soft Touch automatic in Rossville, Indiana. With so many benefits of IQ ownership, Dave Mote says it's FUN to be in the car wash business again! Dave and Eric plan to install 4 new IQ 2.0 in bay automatics in their other car wash locations.
Simplicity of installation, equipment reliability, service alerts, energy savings, smaller equipment room footprint, and the cleanest customer vehicles ever delivered are additional reasons that Dave and Eric are loyal IQ owners.
IQ Car Wash – Bartlesville, OK
When Justin Shepard began planning the construction of his new car wash in Bartlesville, Oklahoma, the first thing he decided on was installing the IQ Car Wash System from D&S.
"My previous experience with the IQ system, its 3-D mapping capabilities, and its ability to use the right amount of water, the right amount of chemistry, and the right amount of brush pressure or nozzle distance is the equivalent of giving each of my customers a custom wash for their vehicle. Choosing the IQ system was an easy choice." Justin even named his car wash after the equipment he uses!
The new equipment install took just over 2 weeks and included both IQ Car Wash Systems – Soft Touch and Touch Free – as well as a 4 bay IQ Self Wash system. After only 2 months, Justin's wash numbers are just as impressive as his facility. He reports around 2,400 washes per month with his IQ in bay automatics and in excess of 6,000 vehicles per month from the self serve bays. Justin adds, "if I had more real estate I would build more bays!"
Justin says that his IQ equipment has been very reliable with almost no downtime. He also says that his distributor, Mid-West Equipment Sales in Wichita, KS, has provided a professional install as well as superior service on the rare occasions that he has needed it.
Most importantly, Justin states that his growing customer base is delighted with the quality of car wash they receive from his IQ equipment. "We have lots of endorsements on the cleanliness and value we deliver each and every time!"
Contact Us today to learn more about how the IQ 2.0 is "The Smarter Choice" for your car wash business!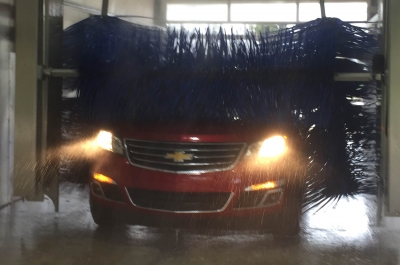 Springfresh Auto Wash – Wolcottville, IN
Mary and Ken Kilgore of Springfresh Auto Wash in Wolcottville, Indiana replaced a tired Laserwash 4000 with an IQ Soft Touch back in December 2016. Wolcottville is located in LaGrange County, a rural area with farms and extremely dirty vehicles.
"We needed better cleaning capabilities to keep our customers happy," Ken says. "When Jim Weaver, of Michiana Carwash Systems, introduced us to the IQ Soft Touch, we knew it was the right machine for the job."
Mary and Ken report that installation of the IQ was quick and smooth, and that maintenance has been easy as well. Ken also mentions that D&S and Michiana worked diligently to dial in his system to the unique parameters of his LaGrange County clientele.  According to them, the results have been remarkable.
After almost 11 months in operation, the Springfresh Auto Wash IQ Soft Touch washes an average of 1000 vehicles per month with the following results:
Labor Costs have been cut to ZERO (no attendant needed)
Chemical Savings = 20%
Power Savings = 30%
Water Savings = 50%
PLUS car wash volume is up 36% over last year!
In addition to these savings in operating costs, and as a result of the IQ's superior cleaning capability, the Kilgores were able to raise the price of each wash by $2.00. That's a WIN, WIN, WIN!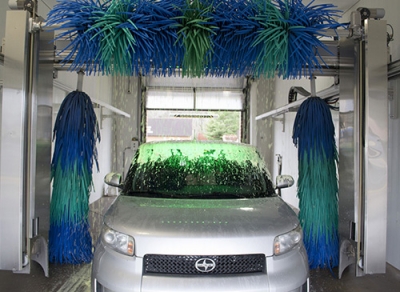 IQ Car Wash – Ponca City, OK
Customers have flocked to Scott Shepherd's IQ Car Wash in Ponca City, Oklahoma, ever since it opened in 2013. With its fresh, clean appearance, modern styling, and IQ Soft Touch and Touch Free In Bay automatic washes, IQ Self Serve bays, and covered D&S vacuum bays, Scott's car wash business strongly appeals to today's car owner who wants user-friendly services in a comfortable and appealing environment.
When Scott recently added the LED Foaming Wax Rain Curtain feature – developed exclusively for D&S IQ Car Wash Systems – to his IQ bays, it gave his customers yet another reason to visit his car wash.
"We've had the foaming wax curtains in service for about a month," says Scott, "and customers love the look of the vehicle after using the product."
Scott estimates that approximately 80% of his car wash customers choose his top wash package – the Ultimate Wash – which includes the LED Foaming Wax Rain Curtain feature. "We'll add this feature to any new IQ Car Wash we order. It works great without any problems."